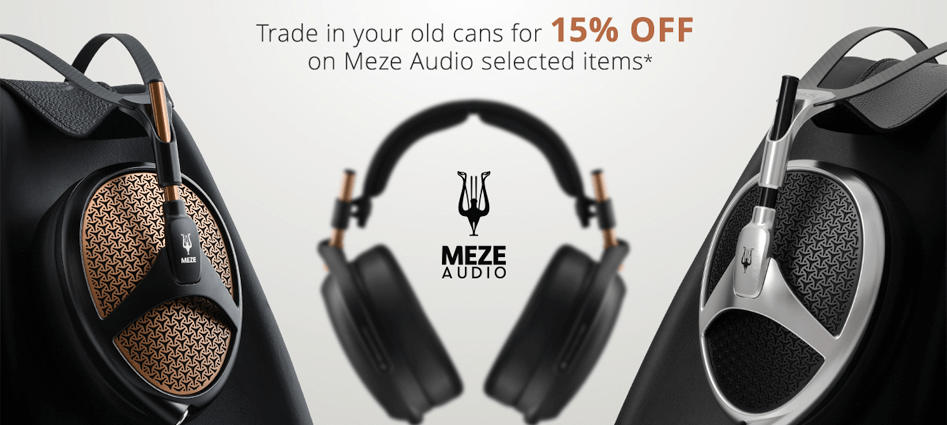 Meze Audio are kicking off the summer with a limited-time trade in promotion on their Liric, Empyrean and Elite 'phones. For audiophiles with a set of cans that have seen better days and are in need of a refresh, Meze's new deal is borderline unmissable.
How Does The Trade-In Work?
Simply pick up your unwanted headphones, take them to any of our authorised Meze Audio dealers here in the UK and claim an impressive 15% on one of the following models high-end models:
Liric
The first Meze high-end hybrid array headphone to also feature a closed back. Liric is built around Meze and Rinaro's remarkable MZ4 driver which combines dual voice coils and presents the perfect immersive listening experience.
Empyrean
Meze's former flagship headphone model, the Empyrean delivers incredibly dynamic audio with precision, detail and increased sound wave exposure thanks to its unique combination of separate voice coil designs.
Elite
At the top of the Meze pyramid is their most coveted model to date. Elite harnesses the power of Rinaro's MZ3SE hybrid array driver featuring a unique and even trademarked Parus diaphragm material. The remarkable listening experience with Elite offers natural sound transparency along with a wide and articulate soundstage.
Nice! How Do We Take Part?
Starting April 25th 2022.
Free 'accessory style' headphones such as Apple EarPods are unfortunately not eligible, but beyond this there are no specific prerequisites for the headphones being traded in. We must simply be able to demonstrate that they work in-store, and your discount will be unlocked.
Offer ends Friday 24th June