Description
Here, we have our demonstration Linn Majik Exaktbox-I
Condition is excellent. It has led an easy life. This unit dates to 2015 and comes in the original packaging with our own 12 month warranty.
This is a hard product to value. It's quite rare, hidden away as an upgrade on the web site and pricelist.
Going fully active requires extra channels of power amplification and this clever product provides them, 8 x 100 W of Chakra power, all in one box.
With an Exakt-ready Majik DSM, this, and suitable loudspeakers, is all you need. If your Majik DSM is older and does not have the Exakt connections, there may well be a Linn upgrade to help. Give us a call.
Exakt digital crossover with 8 channels of DAC
8 channels of 100 W Chakra amplification
2 Exakt Link connections
8 speaker outputs
Linn Dynamik power supply
Back Panel Connections

MAINS INPUT – To connect to the mains electricity supply.
EXAKT LINK– To connect to Exakt compatible devices (CAT-5 cables)
SPEAKER OUTPUTS (4mm, Banana) – To connect to AKTIV speakers (100W into 4ohm)
ANALOGUE OUTPUTS (RCA, variable level) – To connect to power amplifier with unbalanced (RCA) analogue inputs. (300ohm Output impedance)
FALLBACK – Primarily for Linn service use only, to put the device into Fallback mode (used when reprogramming the unit).
Note: Both 4mm and RCA outputs are active simulatneously.
EXAKT LINK Connections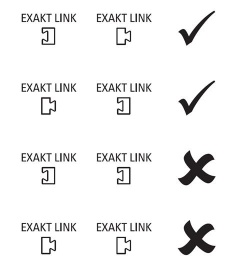 Example if you are using a Majik DSM/1 to connect to an Akurate ExaktBox: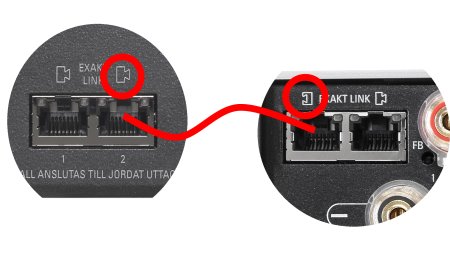 The Exakt-link cable can supply digital audio for multiple speakers. Use Konfig > Exakt Setup pages to declare if Channel1 is left or right hand channel and Channel2 is left or right hand channel
Check HERE for more information of Exakt link connection
Speaker/Power Amplifier connections
Speaker terminals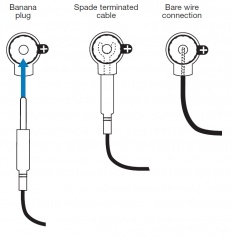 The binding post terminals can be used as sockets for the connection of 4 mm banana plugs or can be used as binding posts for the connection of bare wires or spade terminated cables by loosening the outer section of the binding post (do not attempt to completely remove this outer section), inserting the cable or terminal and re-tightening the binding post to clamp it in place. Ensure that all the binding posts are tight.
We recommend using Class 2 wiring of at least 16AWG.
DOUBLE CHECK the wiring from the Exaktbox-I to speaker terminals!If there are any mis-wires or wrong speaker definintions in the Exaktbox, you may blow the speaker drive units, so take care.
If this is the first connection use the standard Aktiv test scenario.
Put the Linn DS/DSM into Sleep mode to power down the Majik ExaktBox-I.
Disconnect any Majik Exaktbox-I to speakers connections
Set to a low volume value, e.g 40-50
Do the following tests 5,6,7,8 starting with the Bass connections, then Midrange, then tweeter and finally super tweeter in that order.
Connect respective (Bass or Mid or tweeter ot super-tweeter) Exaktbix-I connection to the Bass connection (Bass or Mid or tweeter ot super-tweeter) of the speaker.
Bring the Linn DS/DSM out of Sleep mode and play some Music. Check that you are only getting (Bass or Mid or tweeter ot super-tweeter) audio from that speaker drive unit.
Stop the Music playing and put the Linn DS/DSM into Sleep mode
Leave this cable connected go to Step4 and connect the next speaker drive unit in the list.
If you change speaker or variant, this may also change the Exaktbox-I terminations so DOUBLE CHECK
To see the Exaktbox terminations for each speaker click here
EXAKT LED Status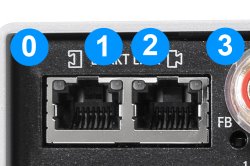 | | | | |
| --- | --- | --- | --- |
| LED | OFF | ON | Flash / Blink |
| 0 Master Port | No Link | Link Discovered | Link Activity |
| 1 Audio Clock | No Clock | Clock locked | Clock not locked |
| 2 Slave Port | No Link | Link Enabled | Link Activity |
| 3 Software Status | Not Configured | Running | Hardware Fault |
Installation
Please read the following carefully before installing the unit in your system – your unit may need to be reconfigured by your Linn retailer.
The ExaktBox-I is shipped from Linn with no speaker setup and must be configured with Konfig software.
Exakt options
Exakt usage can be found in Klimax_Exakt_System
One of the beneifts of the Exakt system is that you can easily setup and optimise your listening environment. Simply download the latest version of Konfig (version 4.11.7 or higher) and follow the Space_Optimsation+ & Space Optimisation+ (Advanced)