Finally, after all these years, something resembling a blog on our blog pages!
05:55 Sunday 24th February Andy rolled up at my house. We were off on our day trip to the Audio T Bristol HiFi Show.
Took a coffee break en-route and arrived at Marriott Hotel well before the 10:00 opening. Massive queue of visitors waiting outside. If you book a trade ticket, you get in ahead of time. Slightly guilty yet smug feeling abated quickly when we realised that there was hardly anyone manning the stands. Just like day two of the signals show, after the curry the night before, in fact.
A lot of our suppliers were keen for us to meet up with them, with new products they wanted to show us. Anyway, this meant we spent most of the time on familiar territory.
Linn's outpost on the ground floor was operating early. We indulged in idle chat and found ourselves booked in for a dem, a tune dem of course, of the new Selekt.

They were using B&W loudspeakers. It was handled well. They doled out free Tunnock's biscuits, easy humour and music in 23 second bursts. What's not to like? It certainly showed something that we already knew. Namely that the Katalyst DAC does a lot more than the entry level one. Nice to see Katie again too.
Sound quality, even on Tidal via a 4G dongle, was actually pretty good although bass in the centre of the room was a wee bit boom prone. Andy found it better where he was located. These rooms are not ideal.
ATC were next door with the new compact SIA 2/100 and CD 2 running into SCM 40s. The guys in there agreed that the rooms were difficult but theirs sounded much better behaved, largely because they had brought a lot of sound absorption dressed up as graphics. We noticed how effective this was when they used them at our own show too.
It'll definitely be worth following up on the new electronics, so we will be having a play with them on home turf fairly soon.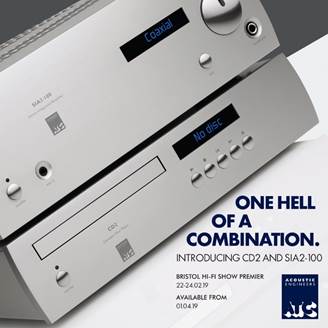 We then met up with Russell K who was playing the Red 150 SEs on a PMC Cor. We turned him onto the PMC Cor for Audio Show East, what have we done to him!?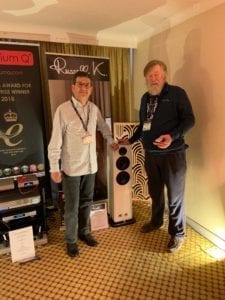 Thought the Red 150s looked great in white but then quickly remembered how few people actually want gloss white speakers.
Neat had their new Ekstras, also in white, playing on a Cyrus amp / Raspberry Pie and Chord Qutest combo. Got far too wrapped up in chatting to Doug Graham. Really should have listened more . . . Good to see Bob looking well but no-one should look as well as Doug does. Is there a crumbling version of DG languishing in an attic somewhere?
On to Rega who were running two rooms, one static and the other with the planar 8, Aurus and Osiris and their diminutive RX3 speakers. The speakers were out of step with the electronics, but it was musical, easy to listen to and Andy remarked that it offered a proper image too.
The shell of the new £3k Aethos integrated amplifier was on display. It's designed in house by James Hammond, who used to work in the service department. I think it's a strikingly pure piece of design, being recognisably Rega but fresh and crisp at the same time. The photo does not do it justice.
It's great to see Rega encouraging fresh talent from within.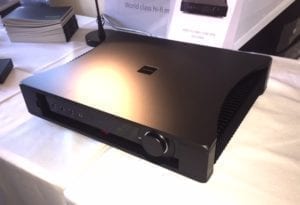 Karma were getting great results using Primare kit with the Falcon LS3/5A loudspeakers and also the new SE versions. The Mobile Fidelity decks were on display but not in use when we were in the rooms.
We had these here, at Audio Show East and on both occasions I've struggled to justify the price. Trouble is, they do sound great and they do sell too. At least they do until we have a demo set glued to our shelf. What do you think, should we? 🙂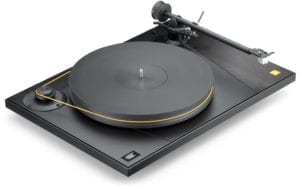 Samples of both the MOFI UltraDeck and LS3/5s are apparently winging their way . . .
Kudos were showing the Titan 505s powered by Linn Selekt. This had started with an active system but something went awry. We were polite enough not to mention this. OK, that's not entirely true. I might have stirred things just a little.
The Selekt did a creditable job and this was certainly a fine sounding room, if not perhaps exactly what had been originally planned. Getting Naim to reconsider their short-sighted decision regarding the Kudos SNAXO remains an objective.
Chatting to Derek outside the room, I met Tony Revelle of Audio T. He saw my name tag and I was surprised that he had actually heard of Signals. Seems Audio T had put some effort into targeting a younger audience this year. He felt that it had paid off, certainly numbers were up.
Quadraspire were also demonstrating via Kudos Titan 505s and Rega turntable and electronics. They were showing the bewilderingly large gains that come from using their QPlus 'interfaces'. Also, they were revealing this year's new colour options on the X Reference stands. Does orange and black sound good? I thought it looked great!: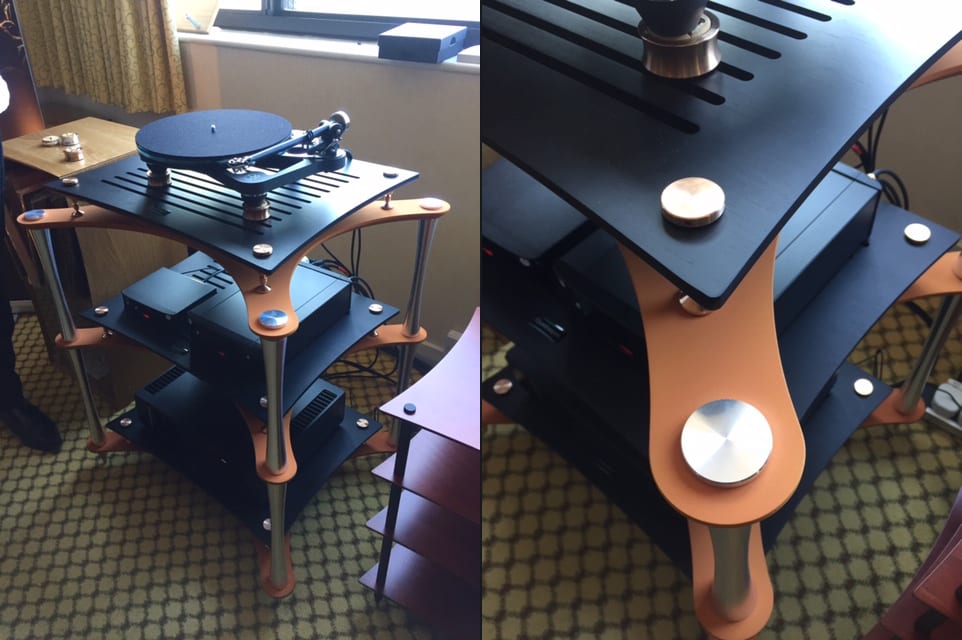 Down in the bowels of the hotel, Naim had a pair of Focal Kanta 1 on a NAP 200, NAc 282 pre and NDX2 streamer. No upgrade PSU's, just 'straight'. It sounded pretty good too and capable of handling more demanding stuff than was being played. I commented on this but, as I said it, I also realised that most rooms were playing it safe too.
Apparently several people had walked into the Naim room and asked what the products were. This added weight to Tony Revelle's suggestion of having brought in new blood.
Up on the Mezzanine floor, Naim were conducting timed demonstrations of the new streamer range into Nac552/NAP500/Focal Sopra 3 loudspeakers. We have the opportunity to do his ourselves at any time and we were running out of time, I'm afraid.
Just as I was chatting to Mike from Naim, a bearded chap tapped me on the shoulder and said how much he liked our web site. He turned out to be John Darko from Darko Audio. Woohoo, we're famous! Will our heads get though the doorway?

Opportunity came to grab some lunch with Mike and Jason of Naim. Initially we sat outside on the terrace but it is February, almost late afternoon at that.  The Naim guys were just in shirts and there was a particularly smoky smoker nearby.  Back indoors.
Final run of visits to Dynaudio playing Confidence 30s on ND555 fronted Naim rig. The nicely damped and dressed room sounded happier than at Audio Show East. In truth, I would have liked to have heard the new Evokes. This will happen here. Soon.
Whilst there, we noticed the same problem of 'safe' music. Keith still hasn't gone, it seems. I was taking the micky out of Bill at Dynaudio but he was as frustrated as anyone. Customers were asking to hear the same tracks that they had heard elsewhere.
It was interesting to see that Wharfedale have some new higher end products. The Heritage range brings back names and appearances from the 70s. The £1000 walnut veneered Wharfedale Lintons were being fed from an Audiolab system including a new low cost streamer. It sounded OK but it was Tidal via a 'dongle' again. Tidal never quite does it for me.
Some more assertive looking speakers in the Wharfedale range promise to be offering a huge amount of scale, mass and build for a fairly middling (£3k) outlay.
Further along, we ran into the new Mark Levinson's new 'affordable' range. The £7k US built integrated amplifier could well be of interest when it arrives in the UK later this year. Retro was the order of the day at JBL too. The L100 Century speakers simply have to be bought with the orange 'waffle' grilles . . .
Now onto Chord Electronics. They had the Hugo TT, Hugo M Scaler and two TToby power amplifiers in bi-amp mode into some B&W stand-mounts mounted on the SolidSteel tripod stands. It sounded great. Music was rather less predictable but still more melifluous  than usual. Despite the younger audience, this remains a very grown-up show!
In terms of product placement ten out of ten goes to start-up company Mian distribution who have recently started bringing the SolidSteel products into the UK.  We saw these products in quite a lot of rooms.
Final call on the way out was to Melco. Discussed the non-arrival of black to the new N100, D100 and N10. Seems black is underway and for those who bought silver in desperation, we will be able to offer something equitable by way of a swap out for a modest cost.
Proving the demand for the new, differently finished but still silver, high end two box N10 requires us to actually sell some units. Accordingly, we have capitulated and ordered a demonstration set in silver, rather than sit it out for black, as intended.  This retail game is not without frustration!
Returning to the matter of product placement, it was interesting to see so much from both Melco and Innuos in the various rooms.
Run home detoured via the Village Lacock where there is a very nice pub. We went.
The chef was off sick . . .
The End.
26/02/19