Our Naim SNAXO for Kudos 707 and 808 loudspeakers has now been with us  for a little over a week. As much as possible, we've been giving it some run-in.
For this, the not quite poverty spec line-up is Naim NDX2 with XPS DR, NAC252 with Supercap DR, SNAXO with hiCap Dr and two NAP 250DR power amps. Standard cables inc NAC-A 5 and a HiLine from NDX to 252.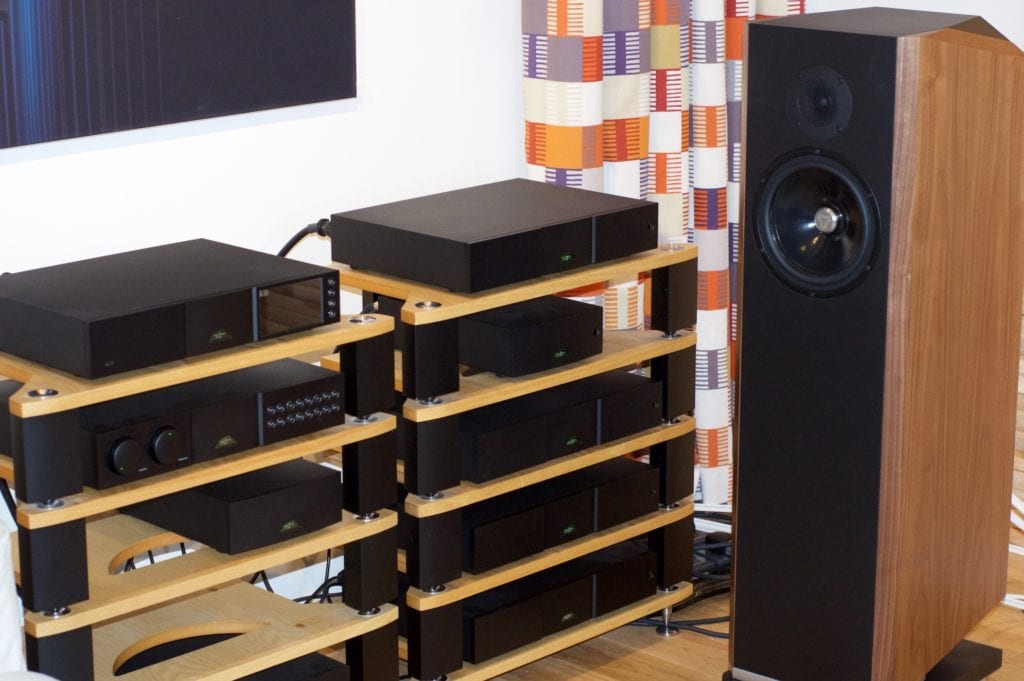 As you can see, even the fraim is basic 'lite' with our 500 system still on the full-fat shelves.
Active has always been about less as much as more. Less in the way of much-reduced hash and bloom, but more in terms of increased clarity and dynamic freedom. It lets you hear more of the music and less of the system.
At our event a week or so ago, both Jason Gould and Steve Sells made much of the technical benefits of both higher quality power amplifiers and active operation. Running active, the power amps are given a much simpler job to do and so the overall behaviour is as if you are using better, more powerful hardware. The alternative strategy of simply using a better power amp reaches its zenith with the Statement S1 powers.
Hate to sound too up ourselves, but this is one of the very few places where all these options can be explored.
Certainly, the active benefit is quite evident in the pictured system; Even without using the supercap on the SNAXO (another one is due with us fairly soon), the 2 x NAP 250 set-up shows a proper qualitative step up from even a single much more expensive passive NAP 300.
To really do this activation in style, additional, significantly larger, power amplifiers are already ordered, as is quite a lot more fraim. And, of course that extra Supercap DR . At least we're putting our money where our gobs are!
Another '242' SNAXO is also due, and this will work with the smaller 505 and 606 Titans, and Cardea Super 10A and 20A.
Armed with three serious power amplifiers, we can activate our favourites, the lovely Titan 808s.
Expect more open days!!
Please bear in mind that activation of a system by way of additional power amplifiers, power supply, SNAXO, etc will qualify for naim the upgrade savings.
12/6/2019