The last few years have been testing times for all manufacturers but Naim seem to have suffered more than most. The interminable delays on getting stock, the deletion of products from the price list and (recently) the reinstatement of others, have made it easy for conspiracy theory's to fester. Has the familiar Naim team been abdicated by aliens? Is Salisbury now just a storage facility?
The recent appointments of Cedric Magnaud as site director and of Matthieu Michaud as group CEO have underlined that Naim is now very much being managed from France and have added to the sense of unease.
Roughly three years had elapsed since we last visited so, at the very least, we needed a fix. Best we go and see what's going on.
With the signals' electric chariot fully charged, Andy and I set off good and early on Tuesday 1st September. If you rang that day, sorry, that's where we were.
We arrived to find the dem room full of staff getting training. It turns out that a lot of new people have been recruited and that many needed schooling in what it is that Naim actually make. Mark Raggett was in full flow. Off we went over the road with Darren and Jason for a coffee.
Once we got back and the room had cleared, we were able to see and hear what a stunning transformation has occurred to the demonstration facility at least. The once dark and uninspiring listening space is now light and inviting. The mixture of damping and diffraction applied to the walls has been incredibly effective. It even looks good in a forest clearing kind of a way. We may well have a case of room envy! Systems played in there now sound very good indeed with a tremendous sense of space.
We had a mini factory tour and have seen with our own eyes just how busy they are. All products, Mu-So excepted, are still being designed, built (and shipped) from Salisbury, although a storage arrangement in Bristol for higher volume items can give a different impression.
Sure enough, construction of surface mount boards are sub-contracted, and have been for some time, but 'push through' soldered components, even on the very same boards as the surface mount, are done in house.
To increase speed of production, revised processes are being tried. With quite a lot of new staff, this speeds training time too. The order book remains (over) full and supply chain issues have not gone away, but a huge amount is going on.
We had a brief conversation with Cedric Magnaud, who seems very involved in addressing the production bottlenecks and supply issues. He's certainly hands on. Steve Sells was there too and he's always a joy to chat to. His passion and creativity is certainly undimmed.
Below the headline personnel changes, a substantial number of 'old guard' 'naimies' are still there. Old established practices continue. Who knew, for example, that SuperLumina cables get baked and then gently cooled in a special oven on site in Salisbury. There is a large open structure around which they are gently coiled before being loaded into this kiln. The cable shaker still remains, too, for those grey interconnects 'that people promptly replace anyway'.
The canteen remains the beating heart and it now has a music system and atmospheric lighting.
Please be reassured, the future is definitely bright (warfare and wider economic concerns excepted).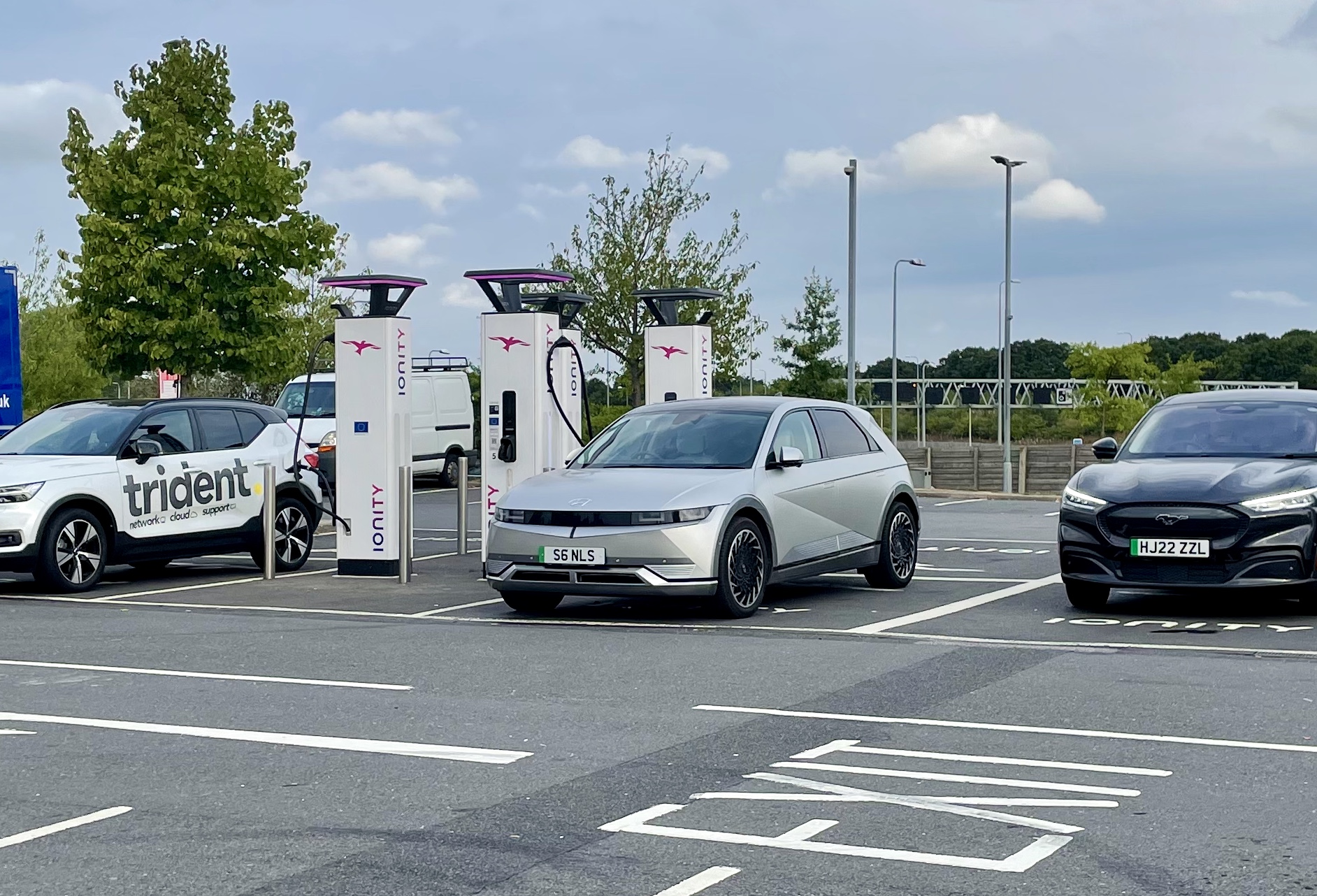 Having reported a few years ago about a slightly fraught trip via Jaguar iPace to Bristol, I can say that this time the trip was a breeze. Super fast charging has changed things dramatically. On the way south, we stopped at Ionity in Cobham services (it's the cheapest fast option with a Hyundai) and had almost finished charging (from 55%) by the time we got, let along drank, our Starbucks coffees.
Gutted to have been too early for coffee from the Leon outlet on site, we resolved to go back on the return leg.  Evening traffic was woeful and arriving to Cobham to find all Ionity charging bays taken was disappointing. We waited about 10 minutes to get hooked up and then went in only to find Leon closing up.
C'est la vie as they now say in Salisbury.