Since moving our business into St Cecilia's House, we've been keen to get a suitably huge and immersive sound in our sizeable but unusually tall (7m) central demonstration space. To do this, we have some pretty epic electronics (Naim Statement, Melco N10 SSD, Naim ND555, various Chord and Accuphase DACs, pre and power amps) and have bought, borrowed and experimented with several large and expensive loudspeakers. The largest ones have generally filled the space well but with the feeling that they were overdoing things in the bass department. Boom and drone were not part of the plan!
Our attempted cure some years ago was to buy a quartet of Hofa bass traps. These were tried both stacked and singly in various corners of the room but seemed to do surprisingly little. They have seen occasional use in our normal dem rooms, though, where they are considerably more effective.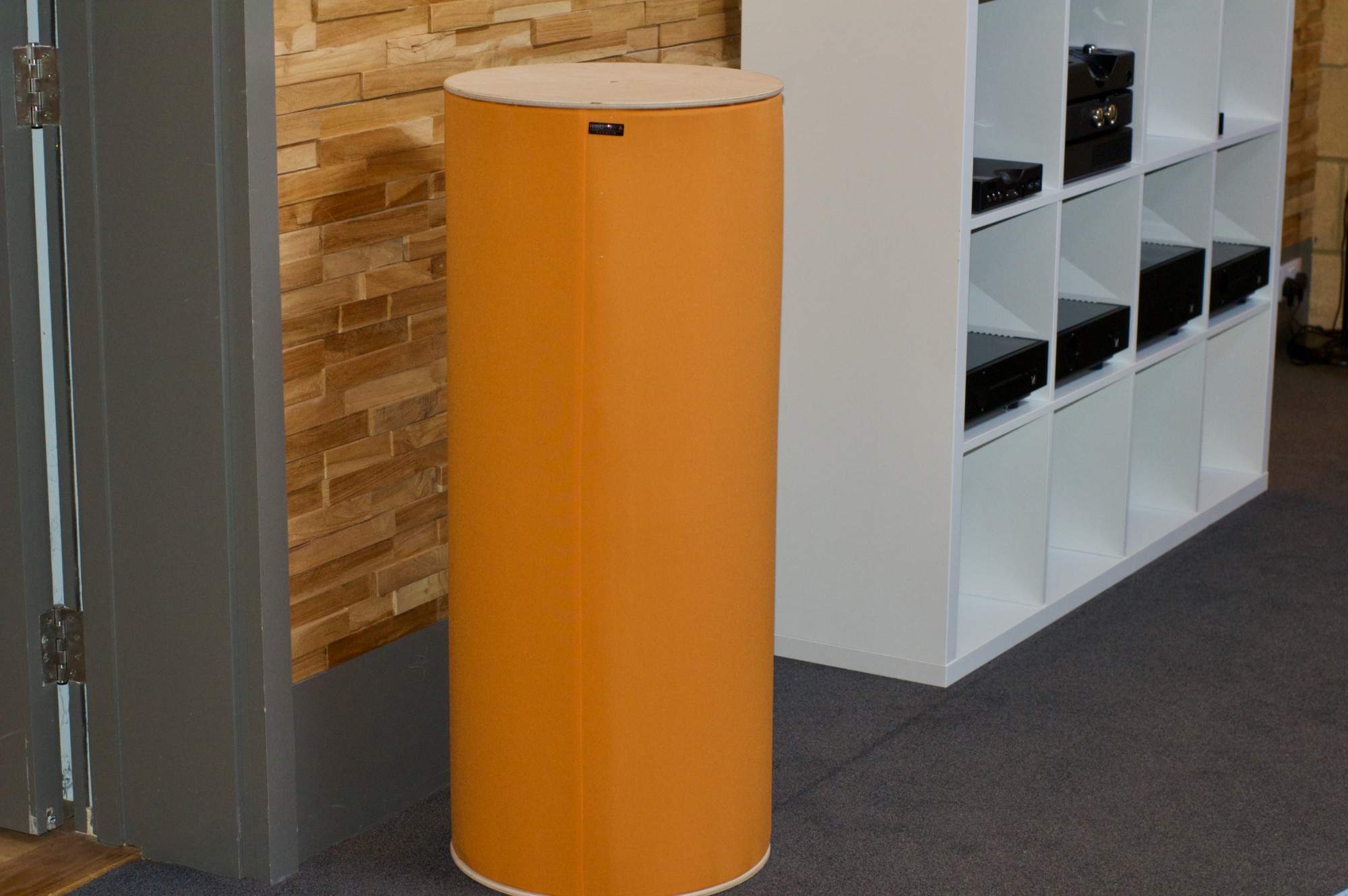 Even the word 'effective' needs context. I recall us playing some traded-in Naim NBL loudspeakers in the front dem room when one of the traps was at the rear of the room. They sounded dry and relentless until we took the trap out.
With the other traps tucked away high up close to our empty box store, we left one of them to one side of what we will be pretentious and call the auditorium. It gave us a useful ledge for handsets and cups and kept it handy so it could be drafted for use in a dem room as required.
We have found some speakers that do virtually everything right in the big space. Star performers for us are the tall Dynaudio Confidence 60s and more chunky Kudos Titan 808s. Both, incidentally, are unexpectedly good at working well in much more restricted spaces too.
We have a history of not doing an awful lot with sub-woofers despite the occasional experience of them working well. Memorably, back when I was working from home, I remember us adding a huge Focal sub to a Naim 500 system driving Kudos Titan 88s in the larger of our two demonstration rooms (my living room). It was impractical to do anything but plonk the beast right between the speakers but, when set up correctly, its impact was significant. For ease, we had connected it to the preamp output on the 552 and, if you turned the main power amps off, all it did was emit the odd shudder.
This level of contribution led to far greater improvements in sense of scale and spaciousness than made any sense. Armed with this knowledge, we set up a pair of REL carbon special Subs with the bass just filling in the lowest octaves. Results this time were a little disappointing, so we engaged Rob at REL for a hands-on tutorial.
The answer turned out to be allow the REL to cover ground far higher up the frequency spectrum than we had anticipated. Also, to set up one at a time and not be worried if the subjective setting for one is different to the other despite the symmetrical locations. These subs have 1Kw of power, roughly the same as each statement power amp, and they do finally give the extra drama and 'wallop' that the large space demands. In truth, they do rather more than that but it starts to sound like dealer hyperbole.
Over the past few weeks, we've also been tidying up the data network to re-establish the clean path originally intended for the audio stuff. Over time, CCTV and various other extras had been running additional data traffic.
As part of this, we opted to segregate the audio part of the network by feeding an audiophile switch directly from the router via an optical break courtesy of the ADOT kit that we sell.  It certainly brought a noticeable uplift in clarity and refinement while, bafflingly, making the audio quality seemingly less affected by what we had taken to be mains bourn noise from the inverter when the Ioniq 5 car is charging.
All in all, we've been very happy indeed.
Then, last week, I decided that I wanted to hold the small funeral service for my late mother in our one time church. We emptied the room of all but the Statement system, the large Dynaudio's and the Subs. During a quick run-through of the anticipated music, we noticed that the room was sounding better than we remembered.
After the funeral (that could I think be judged to have gone well) we set about reinstating all the shelving, electronics etc, that need to be displayed / stored in there. The shelving had no noticeable impact. Neither had the electronics. It was only when we put that single seemingly insignificant bass trap back (along one side, some way back in the room) that we noticed a reduction in space, colour and 'bounce'. It just made it less engaging.
Relocating this with the other three orange wonders to the heavenly stash of empty boxes high up in the room seemed to be a completely benign solution. You can see two of them peeking out at the end of the banners in the pictures below.
Oh, and isn't it tidy? Best visit before we mess it all up again!