Description
All New Majik DSM
Key Features
Streams any digital source over a standard network
Supports formats up to 24-bit 192 kHz
Space Optimisation built-in (requires configuration by Linn Specialist)
Wireless streaming options – WiFi for higher quality or Bluetooth for a quick and easy way to get started playing music
Six customisable smart buttons for immediate access to pinned content from any source plus a toggle button provides comprehensive control and feedback directly from the product
Integrates seamlessly with Tidal & Qobuz lossless streaming services and compatible with Spotify Connect & Roon
Plays Internet radio via TuneIn
8 digital & analogue inputs including HDMI and USB Audio Class 2
HDMI 2.0 connections (4K compatible)
Front panel headphone output
Built-in MM phono stage for connecting a turntable
2 channels of 100W Class-D power amplification
Connect multiple Linn DSM players for a high performance multi-room system
One box does it all: just add speakers.
Majik DSM is the kind of music player that makes other hi-fi sound extremely ordinary. Take your first step into authentic hi-fi with a simple, one box does it all system – just add speakers.

Majik DSM has all the connectivity to handle anything you throw at it, wired or wirelessly via WiFi or Bluetooth. Tidal, Qobuz, Spotify, Apple Music, Amazon Music, your own stored music collection… Whether you're streaming music or using one of many inputs to plug in your 4K TV, Sky box, Apple TV, Games Console… even a turntable, with Majik DSM at the heart of all your home entertainment you'll get the best possible sound from everything you listen to, in one room or many. Majik DSM is an ideal solution for additional rooms, such as the den, family room or bedroom, particularly where there may be other home entertainment sources in use. Majik DSM serves as an ideal hub for all these sources and is a neat way of expanding Linn sound throughout the home.

Customisable smart buttons let you get hands-on with your hi-fi again. They offer immediate access, directly from the product, to anything you want to hear – no matter the source. Streaming services, internet radio, podcasts, your turntable or Blu-Ray player… the choice is yours. Linn control apps provide full control from any device, at your fingertips.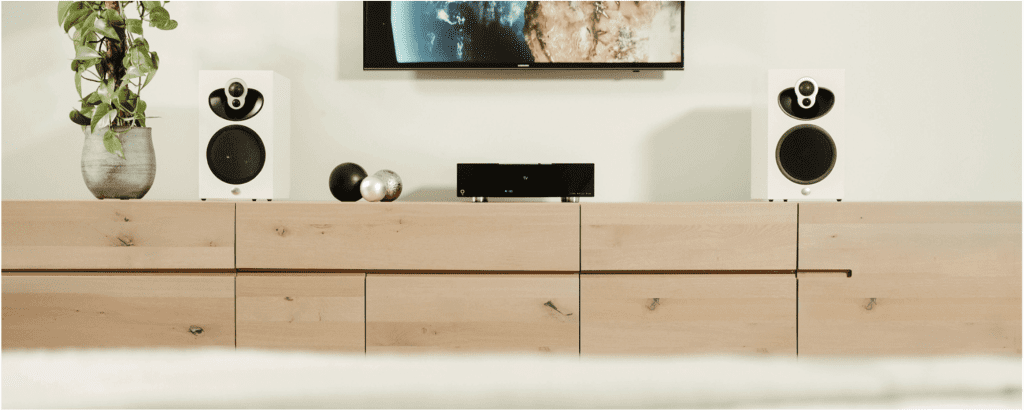 Like all Linn's network music players, Majik DSM has Space Optimisation built in. This means your system performance can be personalised for you and your room's unique characteristics, no matter what speakers you have or where they're placed.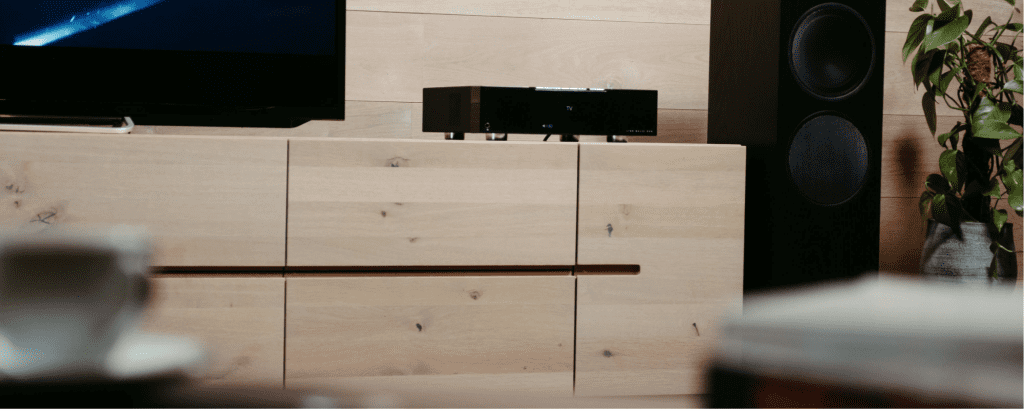 Vinyl lovers can pair this player with a Majik LP12 turntable, for a simple introduction into both high performance streaming and vinyl.
Overview
Network music player and integrated pre/ power amp
Main features
HDMI switching, Built-in phono stage, Wireless streaming, digital volume control, built-in amps, Space Optimisation
Audio formats
FLAC, ALAC, WAV, MP3, WMA (except lossless), AIFF, AAC, OGG
Resolution
Up to 24-bit 192 kHz
Integrated Services
Tidal, Qobuz, Spotify Connect, Airplay, Roon, TuneIn, Calm RadioEthernetx 1 (100BASE-T RJ45)
WiFi
Yes (802.11ac)
Bluetooth
Yes (4.2)
Inputs
HDMI x 4HDMI ARC x 1 (via HDMI output)Toslink x 1SPDIF x 1 (configurable in/out)USB (Type B) x 1RCA Phono x 1 pair – configurable Line-Level (default) / MM-phono
Outputs
HDMI x 1SPDIF x 1 (configurable in/out)RCA Phono x 1 pair1/4" Headphone Jack x 1 (on front of product)Binding-post / Banana / Spade x 2 pairsL R audio out, configurable for fixed or variable. Can also be used as sub out.
HDMI Spec
HDMI 2.0 (4K compatible)
Built-in Phono Stage
MM – hybrid analog / digital
On-board Amps
2 x 100W Class-D
Construction
Aluminium
Finish
Black
Dimensions
350mm (W) x 100mm (H) x 350mm (D)
Weight
4.1 kg