Just in case there was any doubt, here are some rotting leaves and crab apples from our garden at St Cecilia's. Despite the sunshine, Autumn has arrived and it's time for another riveting outpouring from Signals.

Having taken a summer break, we are now settling back into our version of normality. Mick excepted, we've all managed to avoid Covid so far and, looking at the local figures, this avoidance is hard to fathom. We still aim to abide by best practice when it comes to masks and distancing but it's funny how we worry less and less when dealing with friends.

So far, customer gatherings have been incredibly small but I guess we'll have to grapple with a proper event at some point. Audio Show East . . . would people come?

It's been a while since we've played a truly 'serious' system in the large central room at St Cecilia's. Today, we set up the full Statement rig in there for the first time in over a year. We got quite a surprise over just how good it sounded. Odd how familiarity had taken that frisson of excitement away.

Anyway, enough waffle . . . what is this news in the headline?

Before the positive stuff, we might as well get some bad news out of the way. Price rises are becoming a 'thing' and, whilst we don't yet know the exact amounts, both Kudos Audio and Naim have indicated that increases are imminent.

We believe that the Naim rise will be in December whilst it looks like the Kudos one will be March 2022. As a slight 'plus', lead times on many items from Naim are so extended that you won't even need to buy the product for a while. A deposit will simply allow you to know that the old price has been held.
PMC 'any old rubbish' trade-in amnesty
Back in August, I took a group picture of PMC speakers and mentioned that we had renewed most of our demonstration stock. What an intelligent person would also have done at that point would be to mention that their prices were about to go up too. Sorry, I should have said.
By way of recompense, until the end of 2021, we will offer a 20% trade-in allowance against the price of PMC loudspeakers for any pairs of (proper) loudspeakers traded in. Condition is immaterial. More valuable trade-ins will be treated accordingly.
A few months back, we had a little experiment selling some older items, a couple of which had been given to us by customers, with the revenue going straight to St Elizabeth's Hospice. It was only a minor success, with few bids, although the amounts donated were generous. Any hopes that it would lead to any kind of bidding frenzy were, however, dashed. Speaking to the people at St Elizabeth's, I was surprised to find that they were very happy to take electrical goods and to auction them on their own eBay shop. Some subsequent items that have come in went straight to them. Some speaker trade-ins may well go via this route.
Significantly improved (Linn) Klimax
Last year saw the launch of the new Karousel bearing. This, in concert with the new Krane tonearm brought a greatly improved 'entry level' Majik LP12.
On 20th October, Linn will officially launch a significant upgrade to the Klimax LP12. The Karousel had already moved the performance forward for this and the Akurate LP12. Now there is a new high end cartridge (Ekstatik) and revised Radikal Performance Upgrade. We will have the new top specification Linn on demonstration in the next few weeks and an in-house launch event is being planned.
Having had the temerity to go on annual leave around the time this news broke, we have already taken calls about these upgrades from customers who knew before we did! With the cat quite clearly out of the bag and the upgrade prices already on the Linn price list published on our web site, I guess we can talk about it. If any of this is piquing your interest, please let us know.

Beyond these changes, the way the Selekt products are presented has changed. Some prices have come down a little and the principle is now that you buy the basic Selekt hub and add the components you need: Standard or Katalyst DAC. Hybrid, line level or power out modules. HDMI and surround modules to turn it into a home theatre system are available too.

The latest Majik DSM is here on demonstration, as is the new £30k Klimax DSM. Linn has definitely become more interesting!
One of the big things in network audio tweaks is dealing with the digital noise that can enter the ethernet network and thence the replay chain via network devices. The quality of the network switch is proving to be important, as is the quality of the power supply that feeds it.

Another strategy in use that can dovetail with this is optical ethernet. Some high end switches have it, as do some network players such as the latest Linn Klimax DSM. Melco's switch has this feature but most do not.

ADOT offers a way to introduce this noise break into more conventional systems. These are on our web site. We are happy to enthuse and discuss 🙂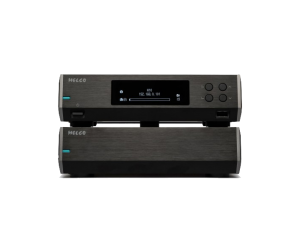 For a limited period, you can save £1000 on the two box high end N10 EX music server reduced from £6999 to £5999.
Better still, buy it with the Melco S100 switch, and you can also have the impressive ADOT fibre network kit free of charge.