New components from Naim Audio are a rarity, a completely new range from Naim is something else entirely. We were not Naim dealers at the time when 'olive' was replaced by what came to be known as 'Classic' but we know it was a big deal.
Welcome to the 'New Classic' 200 series. More is to follow.
For now we have NSC 222, NAP 250 and NPX 300
The NPX 300 power supply upgrade, that is part of the first wave of products, is from the 300 series and will become the default power supply for some of these forthcoming products as well as being an upgrade for the existing Solstice turntable and phono stage.
The new products  will supplant NAC 282, NAC 252, NAP 250DR, Superline, XPS DR, HiCap DR and Supercap DR so these are all approaching end of life, even though some of the replacements have clearly yet to arrive.
Owners who are seeking to complete existing systems with physically matching items please be warned that we are now in last orders territory. Just in case, we have a small cache of new HiCap DRs and Supercap DRs here in anticipation of ongoing need.
CD5si, Nait 5si, Uniti, Nait XS, Supernait 3, ND 5XS 2, and NDX 2 all remain in production unchanged. Similarly, changes to the 500 series, whilst inevitable, are not envisaged for a considerable period of time.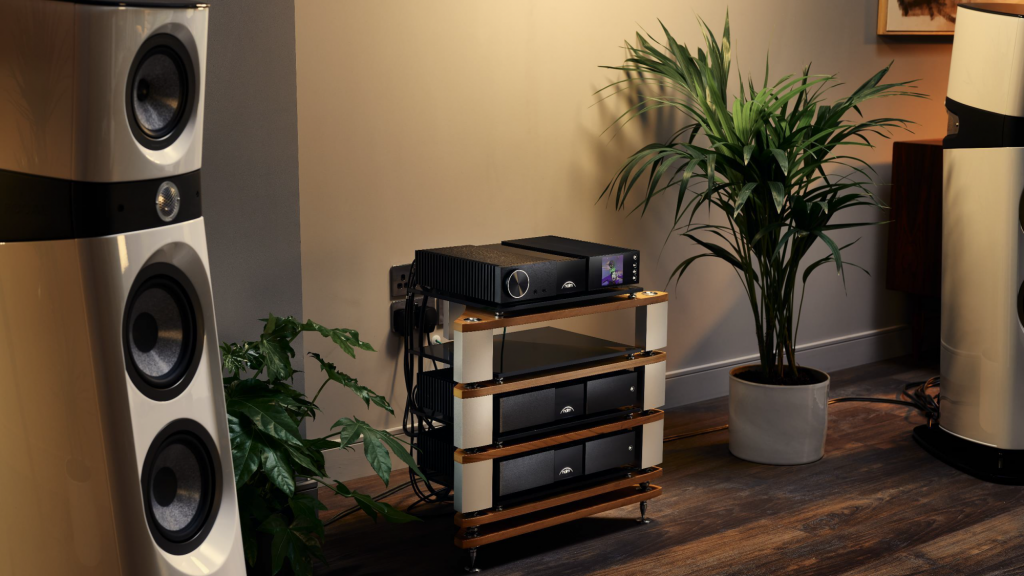 As has been the case for many other dealers, we were able to audition the new products on a one to one basis in Salisbury.  Back in September, we posted about it almost in code  'the future's bright'. We were certainly impressed.
We were played the new two box system into a pair of substantial Focal Maestro Utopia EVO loudspeakers in their massively revamped demo room. Showing great confidence, this was pitted against a NAC 552 DR / NAP 500s DR fronted by NDX2 + XPS DR. Steve Sells gave us a run-down of what will be coming out in a white paper very soon. This is a fundamental ground-up redesign. Quite a big story, in our humble opinion.
In case you're worried, yes, the 500 kit is still ahead, thankfully, but this new 250 drove the Utopias with far more aplomb than seemed reasonable. As I write, we are playing the same two boxes ice cold  into some Dynaudio Confidence 60s in our big space and it sounds really rather impressive. Power supply is warming up and we'll add it in soon. No sense of 'need' for it, though.
All good! 🙂
What is going to be a shock for those keen on incremental change is the change of connectors from DIN to XLR (yet still running in single ended mode). Steve Sells explained and it all made sense when he said it but it now seems to have shot clean over my head.
There is a considerable amount of trickle down technology from Statement in the 222. The volume control, uses ladder resisters but with the same clever tech to avoid the clicking sound when changing level. There was an effortless clarity and an ability to hook you into the musical performance that I'd say is some considerable way above the 272 / XPS or 555 / NAP 250.
Either way, there is an element of both backwards and forwards compatibility but it will involve special cables. Cables that we do not yet have, unfortunately. Give it time. These still need to warm up and bed in.
In Salisbury, we heard an NPX 300 driving the NDX 2 and it was a very significant upgrade over XPS DR. There is a fresh signature to the sound and this became very evident when the NPX 300 was put into service. Special cable requirement notwithstanding, it could be a good place to start injecting the new DNA into existing systems.
Since the new price list is still unpublished, the prices are £5700 per box.
These are emphatically not 'click to buy' online products.
At last, the packaging has improved, by the way. Surprise and delight at every point! Proper double boxing, just like the cheaper kit 🙂
They are designed and built in Salisbury, incidentally, and we saw production was well underway some months ago.  Stock was being built up for a world-wide launch with every dealer having demo stock at the very least. Given the relative scale, I guess it's not entirely surprising that there have been a few leaks spoiling the intended full reveal.
Finally, here is a link to the cable compatibility book.
Happy headscratching . . . COMPATIBILITY & CABLE INFO