Description
Uniti Core – now in stock and on dem
This is Naim's new Industry-Reference Hard-Disk Server
For the first time, you can select and fit your own hard drive.
Uniti Core represents the essence of digital music. It is a seriously powerful machine that will allow you to rip your entire CD collection, store up to 100,000 tracks, serve files to Uniti all-in-one players or other Naim streamers and create a back-up for all of your music. You can also use Uniti Core as a standalone digital source – simply connect it to a digital-to-analogue converter or an amplifier with digital inputs and control playback via the Naim app. Uniti Core is a fuss-free, no-compromise solution to ripping, storing, cataloguing and playing your entire music collection.
Your Music Collection Reimagined
Uniti Core offers infinite possibilities, however you want to listen to your music.
UPnP™ (Universal Plug 'n' Play)
CD Ripping
Digital Output
Storage and Back up
File Formats
Wireless Updates
Whatever the source, Naim's revolutionary new Uniti players combine seamless digital technology with analogue soul for a sound that's
unmistakably Naim. Play, stream, rip and store entire music collections in flawless high-resolution. Then use the custom-designed software to bring out every note of your music with true high-fidelity sound. New Uniti also gives you the option to sync up to six Uniti systems or other Naim streamers and play music from any source in multiple rooms simultaneously. Or play different music in every room.
Under the Skin of Uniti Core
The compact, yet powerful Uniti Core is the perfect hub for your digital music collection. Every element of this dedicated music server – from the customised operating system, the enhanced ripping engine and the linear power supply to the low-vibration aluminium casework – has been engineered to deliver consistent, reliable performance and highest sound quality. Advanced Ethernet technology means that Uniti Core simply will not buckle under stress, enabling UPnP™ players on the network or a connected DAC to perform at their best.
Control Your Way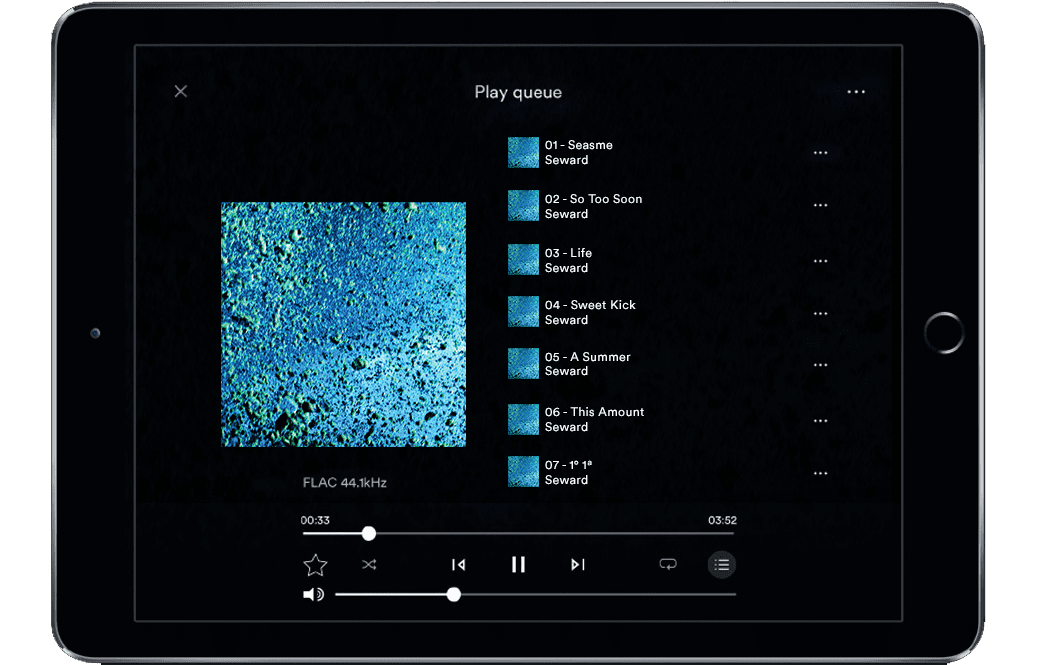 The new intuitive Naim app gives you effortless control over individual or multiple Uniti products. You can access all of your music, including ripped CDs and playlists, or explore artist discographies and biographies. Furthermore, you can now update your system with a single tap. The new app also allows you to control both hard-disk servers and Naim streaming products, so there's no need for two separate apps.
Bringing Uniti to Life
Conceived and built from the ground up by our engineers and designers in Salisbury, England, Uniti remains true to our core design principles. From the finned aluminum heatsinks (inspired by our Statement flagship amplification system) to the brushed black aluminum casing, the new illuminated signature volume control and the beautifully lit base – every minute detail has been considered to deliver a beautiful aesthetic packed with features and technology whilst achieving reference-level sound quality. Uniti is a true masterpiece of industrial design.
Specifications
Dimensions and Weight
95 mm x 214 mm x 265 mm
7 kg
Connectivity
Audio Inputs
2 x USB Type A socket (front and rear)
Audio Outputs
In the Box
Power-Line Lite mains cable, cleaning cloth and quick start guide.
All has been meticulously cut and pasted from the Naim Audio site 🙂